Laying there so neatly folded at the bottom of the trunk was a German army uniform!

  "This is really odd" Daniela thought.

  Grandma hated the Germans. Grandma had lost both her parents, and a brother, in the concentration camp, She and her sister, Great Aunt Elzbieta had survived. Grandma would not even speak of the time in the camp.

Looking closer, Daniela noticed a large envelope under the uniform. She opened it up, inside were more photos of the same man. In these photos he was wearing the same German uniform and embracing her Grandmother! Inside the envelope was one more thing, a birth certificate the names were German, but Daniela still could make some of it out. It was her mothers birth certificate!

  She was really puzzled. Her Grandmother was Polish her Granfather Christov was Polish. Why would her mother have a German birth certifcate? Who was this German soldier?

Aunt Elzbieta would know the answers. She decided to call her her Aunt in Poland.

RING... RING.. The phone is picked up quickly.

"Auntie, I have found some things....." she started to say.

"Ah...you have opened the trunk dear?" replied her Aunt.

"Yes, and I'm very confused."

"As you should be dear. Your Grandmother should have let you know alot of things. I could never convince her to tell you or your mother the truth."

"The truth?" questioned Daniela

"Yes dear, the truth. Christov was not your mothers father. The German in the pictures is your real Grandfather. It's all in the Diary that is there in the trunk, it has a bouguet of lilacs pressed in it."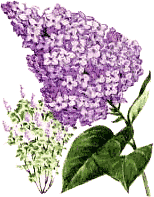 "But I have found no Diary Auntie, the trunk did smell of lilacs tho."
"No Diary? She told me she put it in there. Are you sure?"
"Yes quite sure." replied Daniela with a sigh.
"Dear I believe the time has come that you must visit Poland. Perhaps I can help you understand things better here. I must go now, please say you'll come."
"Ok Auntie... I'll come." Daniela hung up the phone.
The next day she was boarding a plane bound for Europe.
Chapter by Becky